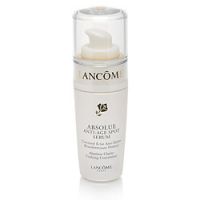 Shows results after 1 day of usage!

Wow, I had 3 deluxe samples of this product and it only lest me wanting to buy it! It's very expensive, but it's worth the money. Not only my skin improved and looked good, I felt amazing applying it - it smells great and the skin feels soft and smooth.

Not worth the money

It was a soft sensation, but did not notice any difference in age spots, did not live up to claims and is very expensive

Age Spots Fade quickly

I started noticing age (dare I say) age spots on the tops of my hands. I researched several produxts and even bought on (Avon) product. It did nothing and I felt I was mislead. However, when I tried Lanscomb Absolute Anti-Age Spot Serum, I was amazed at the difference it made with my skin. It is very light and in about 6 weeks I noticed that my spots were fading to the point that I wasn't always t...read morerying to cover my hands when in public. If you have age spots or discolorations I recommend this product heartily.
Back
to top