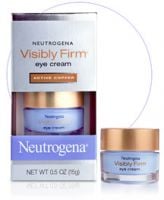 Good ingredients

This is a good, stable fairly priced eye-cream. It works, without all the "hype"!!!

Fragrance in Makeup

Everyone is always commenting on the pleasant scent some makeup product has but I happen to be one that is allergic to any kind of fragrance and if an eye cream or face cream has fragrance my eyes burn constantly and feel heavy and puffy. The best product I ever had was Avon's Anew Eye Serum which they have stopped making and replaced with a line that is loaded with fragrance. It's been a year now and I have still not been able to find anything that doesn't burn my eyes.

Works really fast

It's almost instant. My eyes looked less tired from the first time I used them.
Back
to top