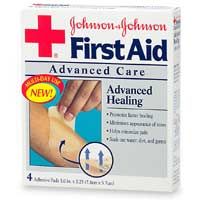 Repels water pretty good

Great for kids and adults. I recently used it for blisters on my feet. The gel cusion adds a bit more comfort, and it repels water pretty good so I don't have to remove it when I take shower. I wish it came with different sizes.

best first aid thing ever

my little boy got a big gash on his forehead and i put one of these on it before taking him to the hospital. they were so impressed with the coverage and watertight seal of the gel pad that they decided to leave it on instead of giving him stiches, with the stipulation i brought him to his dr. ever 2 days as it healed to check for any sign of infection. the pad stayed on during baths and activity,...read more and after 2 weeks he had no sign of any irritation at all. when the dr. took it off it was almost healed with no scabbing at all and no pain to my baby, and we put another of the pads on for 2 more weeks, and left it to 'heal'. it worked like magic, and he has almost no scarring now from what wouldve been a very serious wound requiring stiches. it is priceless. everyone should have some in their house just in case.

carpal tunnel surgery

I just had may stitches removed for carpal tunnel surgery and put the advanced healing bandage on and immediately felt instant relieve in the pain .I have had the bandage on for three days now and can see the difference. I recommend this product for anyone that has just had stitches removed. IT IS A MIRACLE!! FOr the price of under 7 bucks it is worth every penny!!
Back
to top