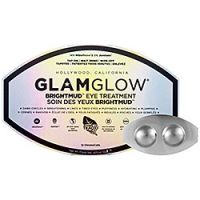 GlamGlow Brightmud Eye Treatment
As low as
I don't think it's doing much...

I have a sample of this that I think a friend sent to me. I'm not sure, I just know it was kicking around my bathroom drawer for months and I finally decided to try it out. This is not a product I would ever buy for myself. It's too expensive and while I like a nice eye cream, I'm not really into the eye treatments. It only stays on 3 minutes, but it's still kind of a pain. Anyway, this came in a ...read morelittle bubble pack instructing me to use one full bubble per eye. How big are people's eyes? I only opened one bubble and still managed to cake the product onto both eye areas with some left over. The product was an odd brownish color with actual chunks of plant (seaweed I would guess?) mixed in. So you might say I was really not a fan of the texture of this product. The scent was vaguely minty, as the other reviewer mentioned, but I have a weak sense of smell so I didn't pick up very much of it. What the other reviewer referenced as a tingling sensation felt like burning to me. And it started almost immediately. Thank goodness it only had to stay on for three minutes because that burning feeling made me nervous, but I was determined to give it a fair chance. Three minutes passed (I brushed my teeth and stared at the clock which is not a terrible use of time, I suppose) and I wiped it off with some tissue. And I honestly didn't notice any difference except the burning feeling finally stopped. Luckily there was no irritation to go along with the burning sensation, but there also didn't appear to be any results. Maybe it's something you need to use for several weeks before seeing results, and if you're into that, fine, give this a try. But it's not my kind of product and the performance of this one did not turn me into a believer. If you have a true interest in this, I definitely recommend scoring a sample to make sure you like it and feel it's worth it before dropping the cash on what might be a huge disappointment.

You may not be paying for the results.

Glam Glow Bright mud Eye Treatment is the worlds first tap on wipe off eye treatment. The retail price the company is asking for this product is $69.00. You can find it at your local Sephora, the company's website and etc. If you are interested in trying this but do not want to commit to the product, go to your local Sephora shop and ask for a sample. You first tap it underneath your eye as close ...read moreas you can without putting it directly in your eyelashes or eye. You leave it one for 3 minutes and wipe it off with a tissue paper. I went to my local Sephora shop and asked for a couple samples of this to try it out and make a review. I wanted to try it and see what results I seen and what results the company claims. The company claims it helps absorb toxins while delivering high nutrients and minerals to tired eyes, helps reduce appearance of dark circles, stimulates Circulation and helps to reduce visual signs of fatigue, helps combat the appearance of fine Lines and wrinkles, provides an Intense hydrating and plumping effect, helps leaves eyes feeling smoother and softer, provides overall brightening effect and helps visually de-puff eyes. Okay, so with that being said I went home and gave this a try "Put it to the test". I used this product at the end of my day when I was the most tired. I tapped it on lightly around the eye, I automatically felt a tingle sensation. The smell was not strong but it had a fresh peppermint smell to it. The feel of the product was very silky, smooth light feel to it. As I left it on for the 3 minutes, it just felt like it wasn't really there. The last step says to wipe it off with a tissue paper, when I did it came off so perfectly smooth and left my skin feeling very hydrated and unbelievable smooth to the touch. Would I buy this product? I would not because the price is way out of my reach zone and I feel this product doesn't need to be used weekly therefore If I wanted it I probably would just go get a sample. I feel there is cheaper products out there able to give the same results. Sometimes its not about the products result you are paying for, you maybe paying for the brand name as well.
Back
to top