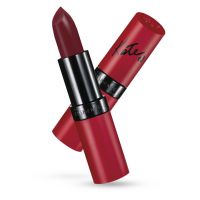 Wish for better colors.....

This lipstick is really smooth and feels really silky on the lips. It is a true matte color. It's not too drying or too moisturizing either. I just wish there were better colors. I was looking for a matte baby pink lipstick that wasn't too Barbie pink and this isn't too perfect but decent enough in shade 101. I just wish it was more nude instead of a bluish undertone. This has Rimmel's signature watermelon perfumey scent but not as overpowering as the Velvet Lacquers.

One of My Top Drugstore Formulas

This is a runner up to my favorite drugstore lipstick (the Maybelline Creamy Mattes) because it is matte but still goes on creamy and is moisturizing and doens't accentuate dryness, flakes, or lines. I have the color 111 Kiss of Life, which is a vibrant, warm, scarlet red. Even though the packaging is cheap plastic, it still looks pretty in my organizer because of the red and the cute Kate with a ...read moreheart for Kate Moss. So, even though it is drugstore, a few of these will look pretty on your vanity. The lipstick smells really nice and fruity when applying, which I love. It has no trace of chemical scent. and it still smells good even though it doesn't smell like vanilla or cake, as a lot of popular lip products do. It goes on pretty easily, though I do recommend a lip liner or application with a lip brush for it, as the red color especially makes it easy for it to smear outside your lip line. But, once it's on, it lasts a decent amount of time. I normally only have to apply it once after lunch and maybe one more time during the day if I have been rubbing my lips together a lot. It has a really comfortable wear. The only reasons I don't like it as much as the Maybelline Creamy Mattes are: a) it isn't as opaque on the first application and b) the Maybelline line has wider range of colors that will suit any taste. The Rimmel ones are even cheaper than Maybelline though, so if your on a tight budget, these are a great option instead of the Maybelline Creamy Mattes.

Awesome For $5...

I snagged this in shade 111 and 107. One of is a pure red and the other is a rich, deep red with berry undertones. Both are absolutely stunning. They are truly matte and so incredibly pigmented. The biggest downfall is the longevity; I did need to reapply throughout the day. But, for $5 each at CVS (and I got mine BOGO 1/2 off with a $3 off $8 CVS coupon, so they were much cheaper), they're well worth the money spent on them.
Back
to top