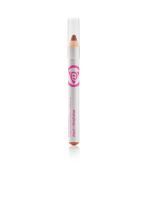 Mary Kay At Play Lip Crayons
Perfect lip color crayon!

I hate wearing lipstick! It never stays on, it bleeds on my aging lips and feels like a ton of grease! A customer where I work came in and had this amazing lip color and liner, so I asked what she was using. I ordered the Mary Kay at PLay Candied Apple and I LOVE LOVE LOVE IT! I cannot even tell I have anything on my lips! It feels wonderful!!! Thank you Mary Kay for this awesome product. Sure makes these aging lips look younger! ; - )

Poorly packaged

The package really threw me off, since it looks like AOL instant messenger I expected it was meant for teens and wouldn't have much long lasting color. I will admit, I was wrong, I have a red which is quite a nice color, and did last about as well as a drug store brand would. Not my favorite lip crayon, but really not the worst.

Love!

When my lovely Mary Kay rep Carla sent me the @Play Lip Crayon, I was like "omg she knows me so well!!" I have a total lip gloss obsession and I was so excited to try this! The color I got was Toasted, which is a really pretty neutral. The website reads: This two-in-one lip color and lip liner delivers high-impact, lasting color with a shimmery finish. Features a soft, lightweight, buttery text...read moreure. Glides on smoothly and effortlessly without drying lips. Blends easily and offers buildable coverage. Cost: $10 for a crayon First impressions: The color is really neutral, so right away I was excited that I could wear it at work. They are not kidding when they say it has a buttery texture! The texture is more lip gloss than lip stick, in my opinion. It didn't dry my lips, and didn't sit on top. It blended in and definitely felt moisturizing. Application: I wanted to play with the buildable coverage, because I'm always looking for items that can transition from work to play. One swipe across each lip blends to leave a little bit of soft natural looking color. Two or three swipes gives a really good pop of color. The all day test: I don't really expect any lip product to last all day (unless its a stain, of course) but there's a big difference between reapplying every 5 mins, and every hour or two! One reason I don't often wear lip stick at work is because it can make my lips feel dry as it starts to wear off, so I feel like I'm reapplying constantly!! One thing I really liked about the MK lip crayon is that the moisturizing feeling lasted, so I never felt like my lips got dry! I tested the lip crayon at work, glancing in the mirror often to see how the color was staying. I think on average I got a hour or two of color from each application. Bottom line: If you're looking for a good all around lip color, this is going to be your new go-to product! The MK lip crayon combines a lip gloss-like moisturizing texture with beautiful buildable color.
Back
to top