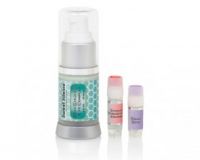 This has alcohol & fake ingredients

I wanted to try out a new eye cream..especially this one!! Loved the idea of 24K gold. After 2 weeks of using it, my lines did not get any better, it flaked the skin under my eye drying it out & nothing was done by the company to refund me. This was not hydrating by any means. Some of the models that work for me tried it & had bad reactions.. I have never had this issue and I don't have sensitive ...read moreskin. I did get a refund but decided to get my own testing on this to learn that the products in here are not what the company claims. Lots of the stuff is cheap stuff from China. Pretty sure lots of these other reviews are friends of the owner. Be careful

Cure chronic puffy eyes

I inherited chronic puffy eyes from my mom and grandmother - thanks, ladies! - and I've never found ANYTHING that really fixes them. Until now. This is a truly great eye cream that, just like all the other products in this amazing line, produces stellar results almost right away. And who can argue with 24k gold on your face? :)

Golden Secret

Just hit 43, and decided that I needed to start combating my active (never used sunblock) lifestyle. After reading the reviews, and learning more about this stuff, I decided to give it a shot. I love love love it. It has none of the heaviness that I always associated with eye crème (thanks, mom!). Light, easy to sleep on... and most importantly. Noticeable results. I love the ability to 'activate' it myself. Well done Sweet Science!!
Back
to top