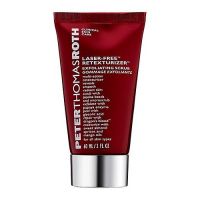 Peter Thomas Roth Laser-Free Retexturizer Exfoliating Scrub
As low as
AAAH-mazing, New Skin!

I'm at a point in my life where my skin is battling two issues. I still have cyclical acne, although it is very diminished compared to when I was in my early twenties and thirties. And now I'm all about taking care of my skin, exfoliating dead cells and encouraging the growth of new ones to prevent lines and creases. A salon peel can be very pricey and I love the line of Peter Thomas Roth Produ...read morects--I've used them for a number of years and they are highly effective. Their FirmX™ peeling gel is an enjoyable and quick way to remove the layer of dead, dry cells on your skin easily. After using that, I decided to experiment with their "Laser-Free™ Retexturizer™ Exfoliating Scrub." I've preached before the need for exfoliation: The dead cells of the epidermis can cause your skin to be rough and patchy. Once removed, your skin is far more receptive to the benefits of any creams and serums you apply. Circulation is improved, and your complexion is visibly enhanced. Peter Thomas Roth's "laser" scrub is a laser-free treatment with the results of a salon treatment. It is free of Sulfates, Phthalates, Triclosan, and Synthetic Dyes and Fragrances. It is replete with a number of skin-loving ingredients: Dragon's Blood (a resin drawn from a tropical tree); Jojoba beads which scrub gently, without fear of tears to your skin; Papaya Enzyme, which helps to slowly decongest clogged pores and dissolve dead surface skin cells; Glycolic Acid, to even skin's tone and work away fine lines and wrinkles; Caffeine (constricts bloods vessels and diminishes redness and inflammation); Sweet Almond and Apricot Kernel Oils; Mango Seed Butter and Aloe Juice. You first massage onto damp skin to begin the exfoliation. A small amount begins decimating dead skin cells. You then leave it on for two to seven additional minutes, like a mask (it reminds me of an old scrub/mask by Lancôme which I absolutely loved). Enzymes and Glycolic Acid work on a deeper level to rid skin of the old epidermis and replace it with antioxidants and oils to fight free radicals and nourish. After rinsing thoroughly, you will find absolutely NEW, AMAZING skin--my skin hasn't been as smooth since I first left my mother's womb. There is a new clarity, luminosity, softness, and resilience which is difficult to put into words (although I've definitely tried). This sells for $38.00 at Sephora but is well worth every penny; a tube goes a very long way.

Next Level Smoothness!

I have tried countless exfoliating scrubs, but this one is by far my favorite. What's unique about it is that it's a gel scrub AND mask with three different types of exfoliation. Cleanse your face and remove makeup prior to using this twice a week! The first level of exfoliation is your physical scrub. You feel the microscrub and jojoba beads slough off dead skin as you scrub your face (with a qua...read morerter size amount) vigorously for about a minute. I LOVE that this scrub doesn't have big seeds which can damage my skin like apricot seeds. Then you leave it on for 2-5 minutes depending on whether your skin is more sensitive or normal. The second level of exfoliation is your chemical peel. Glycolic acid gently peels off the top layers of the skin to reveal a much smoother, clearer complexion. The third level of exfoliation is your enzymatic peel which fruit enzymes digest all that dead skin and the fruit extracts inject precious anti-oxidants to neutralize free radicals which cause premature aging. In addition to the intensive, yet gentle exfoliation, you also get a dose of sweet almond, apricot and mango oils which nourish the skin with moisture. As part of the Laser-Free line, this scrub also contains a dose of Dragon's Blood which is derived from a tree in the amazon. It's a potent extract which repairs damage cells, improves skin tone and texture, but also strengthens baby cells to make your skin more resilient. What I LOVE about this scrub and mask is that it delivers several different levels of exfoliation and repair which have DRAMATICALLY improved the tone, texture, clarity, brightness, and firmness of my skin. I am actually on my third bottle since this product came out this year (I use it twice a week religiously) and I honestly don't think anything can come close to it (apart from going to a dermatologist for a pricey professional peel). One of the things I LOVE to do with this is use it on my body in the shower because I get the softest, smoothest skin I have ever had. Also, I love to use this prior to using a Brazilian Peel once a month which allows the Peel to penetrate deeper and reveal more radiant, smoother skin. For 38 dollars, it can be a bit pricey compared to other scrubs, but this scrub is simply to die for. A tube goes a LONG way, and the benefits are simply worth it. It's not just a scrub and a mask, but it's also peel and a skin care treatment. With so many benefits, the price is worth it.

love it

It is a great product but if you have dry areas on your face, use it only once a week and don't forget to put moisturizer.
Back
to top