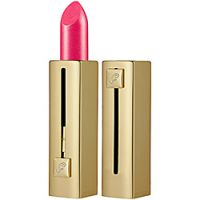 I like it!

My lips are shining with this lipstick, and lips are not dry

Holy grail lipstick

I own this lipstick in 265 and I have been raving about this everywhere! The formula is amazing, its very moisturizing and comfy to wear. The lasting power isn't great, but because the packaging is super luxe and chic, taking it out of my purse and reapplying it becomes a treat, and makes me look like a diva of some sort! Overall, I really recommend this lipstick, and I would love to try other colors!

Very Impressed

This has been my go to lipstick for months now. The shade that I have is 264. I bought it based on the case (there I go judging a book by it's cover haha). The color goes on very smooth, and leaves my lips feeling very moisturized for a lipstick. I would definitely recommend this lipstick if you are looking for one that does not dry out your lips.
Back
to top