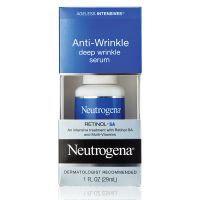 Neutrogena Ageless Intensives Anti-Wrinkle Deep Wrinkle Serum
As low as
Pancakes and Prevention

My skin is still young, but I am periodically scared into prevention, so I gave this stuff a try. It's hard to tell whether or not it works, since I don't have any wrinkles. I do know, though, that even though it says it can be used under makeup, it is heavy on the skin and doesn't absorb quickly. I only use it at night. Just be prepared to crave pancakes. It weirdly smells like syrup.

Ick!

I can't get past the smell! Reminds me of maple syrup - gag

Excellent Skin Smoother!

So I won one of these! I can't give it 10 stars, though because, even though I'm 48, I don't have any deep wrinkles, so I don't know if it actually works for those or not. I'm hopeful, though, that I can fend them off for a while with this stuff. My skin is actually quite oily and I'm (still!) acne-prone. I also have seborrhea, so I was afraid of using this on my extremely sensitive skin. But I di...read mored use it, and I have been for about 6 months now, without any irritation. My skin has never been so smooth and clear and surprisingly, the blotchiness and past acne marks have lightened considerably. I don't use nearly as much concealer as I used to. Oh, and the few lines on my forehead and around my eyes are barely noticeable anymore. After I used up my prize, I went out and bought another one. This one is definitely a keeper (assuming Neutrogena doesn't discontinue it or reformulate it...)!
Back
to top