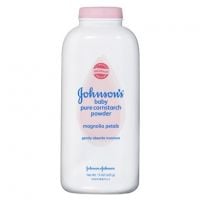 Johnson's Baby Pure Cornstarch Powder with Magnolia Petals
As low as
Like

Soft scent, nice, love Johnson's, can't go wrong

Not good as a dry shampoo.... :(

In all fairness, this is certainly not marketed as a dry shampoo. However, when using it for other things, I think it is just okay, but there are better options available. I don't care for it for rashes; rashes need healing and moisture (like Aquaphor) and often times a rash is irritated and can burn or itch and be very dry to the touch, so why people add powder which is more drying is beyond me. ...read morePowder is good at PREVENTING a rash, diaper or otherwise. But once you have a rash, a medicated ointment is a much better option. I have used this in the summertime to keep moisture away but I find it to be too messy to work with. I prefer a spray deodorant instead. I first heard about this exact Johnson's powder on You Tube to use as a dry shampoo. I kind of liked the idea - I am trying to find more ecofriendly products and I was starting to get away from the spray shampoo since it is in an aluminum can and has so many chemicals added to it. However, the powder just wasn't enough for me. First off, it was of course very messy. It was difficult to control and didn't absorb oil as well as my Suave Dry Shampoo does. It didn't work for me at all. There are just all around better options for most of the uses for this powder. As far as the scent is concerned, I thought it was just okay; not as pleasant as I thought it would be.

Handy

Good product to have in your counter. Smells good and very useful for rashes without irritating skin.
Back
to top