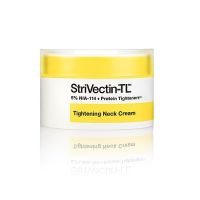 Not the Answer to

Turkey neck. The awful, hanging, dreaded turkey neck. At one time or another, all of our formerly lovely and oft-neglected necks will become like the skin of a turkey. It is a key topic in the subtly hysterical book by the beloved, deceased, ever-witty Nora Ephron, "I Am Worried About My Neck." As Nora noted in that tome, she and her friends met often, each of them wearing turtlenecks, chunky ...read morejewelry, and scarves as "compensatory dressing" to conceal inevitable aging. She wished she had taken care of her swan-like young neck in years past, as she had no idea of what was to come. And she mentioned in her writing the discovery of "Strivectin-TL Tightening Neck Cream" as an aid in the battle against aging and gravity. As Ms. Ephron merrily wrote, "You have to cut open a redwood treat to see how old it is, but you wouldn't have to if it had a neck." Is Strivectin, highly touted as the "answer" to turkey skin, the key to turning back the clock? Sadly, very sadly and many dollars later, I haven't found it so. You see, I had genetic creases across my neck since I was a child. I recall posing for my fourth-grade class picture, pulling up the Peter-Pan collar of my dress around my neck to disguise the inherient creases (at age nine!). I've been using Strivectin for more than two years. It has its benefits, but at this point I don't believe they warrant the price of this product. At $89.00 for less than two ounces, Strivectin contains protein "tighteners" and a patented version of Vitamin B3--also known as Niacin--to improve moisture content, tighten skin, and fight sagging. Niacin is a powerful vitamin; my mother took it as an aid to her beauty regimen, only to wind up with skin so taut and red that she wound up in an emergency room (the symptoms disappeared by themselves over a few hours). My silly teenage sister mimicked my mother and found herself hospitalized as well. But don't expect an earth-shattering change with Strivectin's neck cream. Evidently the Niacin included is not enough. There is some disguising of lines and crepey tissue and a very slight firming feel. I've done better with products from the Perricone line, especially "Cold Plasma" ($135 for two ounces, but a better deal, all things considered). No, I do not have money to burn, but my wardrobe contains few turtlenecks and I don't wear many scarves. My best advice? Moisturize your neck from a young age and protect it well with sunscreen, summer and winter. As for "turkey neck?" If it happens to you, have a new procedure, a mini-facial called a "QuickLift." I haven't succumbed yet, but I do fear that in years to come I will be signing up for one . . .

good product, awful ad campaign

Strivectin Neck Cream is a tightening and skin conditioning cream that visibly firms and tightens the neck area and your decolletage. The problem I have with it is, well, the weirdness of their attempt to gain your attention with their packaging. On the front of the box in enormous letters it says " Got Turkey Neck?" Good Lord, that's rude! I realize that they're simply trying to grab your atte...read morention, but it smacks a little too much of 'teenager acting out so Daddy will notice her' to me. Yeah, I noticed it, but not for the right reasons. I received this in a sampler which is the only reason I tried it out- I would have never actually bought this as the turkey neck thing really turned me off. Why would such a pricey prestige brand stoop to such depths? But I digress. I don't have a turkey neck, but I also do not want one either. After about a month of using this in lieu of my face moisturizer for my neck, I have to report that the skin on my neck does feel tighter, softer too. Where I'm really happy though is with my decolletage. I am seeing a definite improvement in the firmness and appearance of the skin, and my stretch marks are rapidly diminishing. I am of the, shall we say, busty variety, so to use this as a bust cream for me is really putting this stuff to the test! Their website says they have a 30 day money back guarantee, so they themselves are pretty confident in their product. I have read mixed reviews- some see it as the second coming while others see it as overpriced. I can say that it is super concentrated. A 7ml jar has lasted me a month and I've only used roughly half of it. Granted I am not applying twice daily like I'm supposed to as in the mornings I'm lucky if I remember to put on pants.

Smooth!

This product goes on smoothly, feels good on my skin and smells good. I'm happy with results. I've only been using it for a couple of weeks but I hope see better results.
Back
to top