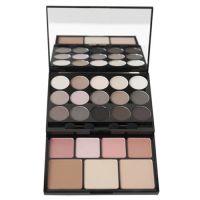 A Buy You Can't Afford to Miss!

If you've read some of my other reviews, you know that I am absolutely addicted to palettes. It's hard to walk by one without picking it up and generally purchasing it. When NYX introduced their "Butt Naked Eyes" ($25.00), I fell hard. And I'd buy it again. And again. The name is deceptive, as the shadows are not so neutral that they are boring in any way. Au contraire--you can easily create...read more anything from a barely-there look for everyday wear to a true, dramatic smoky eye with ease. Fifteen well-pigmented eye shadows allow you to blend and experiment with only your imagination setting the limits. These colors apply easily and wear well, especially over a good primer (NYX has a great one). Some of the colors are light pinks, taupes, suedes, ecru, white, charcoal, deep amethyst, and chocolate. The shades are all a matte finish. I would like some shimmer, but this makes it truly wearable for all. Add to that two rosy and two coral blushes (very flattering colors), a bronzer which is not too dark for even the most fair skin, and two highlighters in champagne and light peach. For twenty-five dollars, it breaks down to about $1.13 per color (that's the way I justify my purchase of palettes). It's a bargain you simply cannot afford to pass by!

more like smoky eye palette

The eyeshadow colors in this palette are classic, usable, coordinated, and flattering on lids. However there are too many matte colors, as usual with NYX palettes, I do not know why they don't make shimmer or metallic palettes or at least mix them up better. Also, there are too many dark colors, and they should have put in more medium brown toned colors (not gray toned) so that we can use them as ...read morecontouring colors. Also, the quality isn't as great as their single shadows. It's slightly harder to pick up, probably because they pressed these harder. Their face colors are usually useless for me, since the colors are all too light, making my face chalky and whiter. Nevertheless, I had to have it to add to my NYX palette collection. All of their palettes are different sizes, they should really make them all same sizes...

A true "naked" palette

All shades are well pigmented, even the lighter ones. This palette is so versatile that allows you to create the softest and most natural of the looks, but the most gorgeous and sultry smokey eyes as well. I wish the blushes were in the big pans and the contour and highlighters in the small pans, but that's just me.
Back
to top