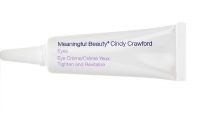 Meaningful Beauty Lifting Eye Creme
Horrible! I love the mb products but this is like putting alcohol or something under my eyes!

Makes my eye water and the chemicals make my eye burn..tried putting it farther from my eyes just to see and just the "fumes" or whatever I cud feel it burning my eyes still...lancome is best any eye cream etc

I don't know what to say

This is the only thing I can use out of the MB line that does not irritate my skin. I have not seen a difference in using it unless is takes a while. There is a smell to it and its not gross or good it smells like beauty products to me.

ok

It's not a bad eye cream, it just didn't do all that much.
Back
to top