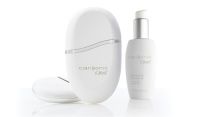 Clarisonic Opal Sonic Infusion System with Anti-Aging Sea Serum
The Opal Works for Me

I have a problem with dark circles and puffiness under my eyes. I went to Dillard's Department Store to see what they had to help me with this problem. The sales person removed my under eye concealer, and used the Opal. It cooled my eyes, and I was amazed...it immediately reduced the puffiness! The serum contains a special sea ingredient. The Opal is designed to help absorption of creams and s...read moreerums absorb deeper into the skin. So, I decided to also use it on the wrinkles on my face. I have been using it for a month now, and the dark circles are fading and the crow's feet (horrible name) are gone completely. Using it on my face has given my face deep moisturizing, and my face looks radiant and glowing. If you have the same problems I describe, you should consider the Opal. It was $195.00 at Dillard's and elsewhere, but I bought it on E-Bay for $120. It comes with 3 pods of serum, and the one I purchased was in a box complete with everything it's supposed to have.

My buddy

I really do like the Opal. It sends these little vibrations that somehow help me get rid of my dark circles and bags under my eyes! And I also run it up the side of my nose to help with my allergies... What a relief! It's on a timer that only lasts a few seconds then you have to hit the button again, I wish there was an option to turn it up longer or completely disarm that! I haven't tried any oth...read moreer serums with my Opal because I don't know if I'm getting such amazing results from the serum or the Opal or because the two work so well together... But when you have a good thing going, don't mess with it! As for fine lines, no I can't see a change but the fact it has made such a tremendous amount of difference on my dark circles that I've had all my life is well worth money I spent on this thing. I bought something else to take care of the fine lines!

On the fence

I like the Opal but I'm still on the fence if I really need this product. I have bad dark circles (part heredity, part year round allergies), and anything that comes onto the market that claims to diminish puffiness/dark circles I usually try it. When I bought my MIA I saw this and was curious, but for the price I wasn't going to just jump. I did some research and bit. So many people claimed what...read more a big difference it made. So then I decided I had to have it. It does feel good (which is probably my favorite part). Overtime some of the darkness and puffiness have diminished and yes , the fine lines around my eyes do seem to be less noticable. But overall its not a huge dramatic effect like I look so much more refreshed thing, this is why I am on the fence. While I like it and think it has helped a little I'm not sure if I would repurchase. In fact my first one stopped working for no reason at all so I had to take it back to Sephora for an exchange. That makes me wonder how reliable this product will be after the warranty wears off. So over all I think I would repurchase but not 100% sure.
Back
to top