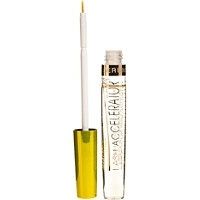 I love this stuff!

I was very skeptical about buying this product. I had a coupon and thought I may as well try it. I am so glad I did. I have been using it religiously morning and night for about 3 weeks now. I can tell mostly when I apply mascara that my lashes are thicker and longer! I am really surprised that it works as well as it does but I will definitely keep buying and using this product.

Review subject

thats good product. but you know i have also tried latisse lash serum which is also good and help to raise longer and darker eyelashes quickly...

Works well

I have seen a difference in the length in my lashes. I've only been using this for over two weeks, and it seems to be disappearing already. This product may have nice results but it doesn't seem to have enough product. I dunno if I'm using too much product or what. Also the brush is a bit weird but I've made it work. I hope I don't have to keep repurchasing this every one to one and half months si...read morence I can clearly see that I'm almost a quarter done with the tube. I do recommend it though if you need help with your lashes and brows. My brows and lashes are definitely thicker and longer .
Back
to top