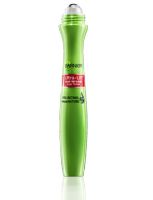 Not so good.

I am one of those with puffy eyebags. I hide them with my glasses, which is nice, but when i take them off, i would rather scream :P Anyway, the puffness, is a big problem for me, because i still can not find a solution. And have tried many thing, like cosmetic, therapy, natural solutions, like teabaggs and cucumbers, but nothingreally helped. Some creams, did some change, like i feel the skin ge...read moretting tighten but the puffines didnt gone. Ok so the garnier.. Well first of all I do not like hot sticky it gets after 15 minutes you put it on. My makeup that fallws down, it gets stucked onto my eyebaggs, which just makes it worse. I do feel that cold touch which makes you kinda bealive it will work, but it didnt. At least not for me. H

Not what I hoped

I have some serious under eye circles as well as some fine lines under and around my eye area, and I didn't notice that this product made any difference to them in the weeks that I've used this. That said, this did help with the puffiness in my eyes and has a pleasant cooling sensation because of the little metal ball that applies the product. It's very refreshing. I find that I have to use thi...read mores at night because when I rub my undereyes, the product sort of peels off like a face mask that hasn't dried yet. So I use this at night and wash it off in the morning.

Pretty good!

This isn't an intensive anti-wrinkle product in my opinion, but more of an anti-puffiness product. The metal rollerball feels really nice under your eyes in the morning, especially since putting something cold under your eyes de-puffs them. I can feel the gel-ish liquid tighten the area as it dries, only slightly though. I overall really like this product because of its natural feel (dries completely invisible) and the cold touch.
Back
to top