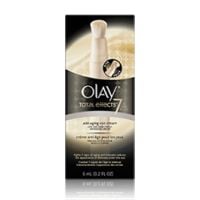 Great product!

I received an OLAY Total Effects Line & Dark Circle Minimizing Brush as a prize (from TotalBeauty.com). I must say I've been very happily surprised by the results. I've been using this product for over a month now and I agree that it has smoothed out my eye wrinkles and lines and it has even lightened my dark under-eye circles. I wish it were a little thicker in coverage, but it definitely is a product I will continue to use. The brush makes it easy to apply, too! Love it!

Woomp Woomp Woomp...not impressed

First of all, I have inherited the deep under eye lines from my mother and my poor younger sister has inherited them as well. Even one of her sons looks as if he will be dealing with them. Although I will say it's easier for a man than a woman to pull off ANY facial imperfection. As a result, I have been endlessly searching for my "miracle" eye cream that will lighten the skin under the eyes. ...read more My fair skin doesn't make it any easier as you can easily tell when I have stayed up too late the night before. So, I bought this product because I respect the Olay brand, thought that the applicator was really neat and bought into the "7 anti-aging" effects. BUMMER. It took me about a week to even get the product to come out of the tube after continuously clicking the button on the bottom. Maybe I just had a defective applicator. But one day, it miraculously decided to work and actually distribute product. But, I still haven't seen any great results. Unfortunately the tinted moisturizer actually looked darker than my skin and only emphasized the dark lines under my eyes. The only thing I liked was that gentle brush used to apply the cream and I actually use it to apply my concealer everyday before the makeup in my routine. At least I am getting some good use out of it!

Olay Total Effects Line and Dark Circle Minimizing Brush

First let me say this, don't make the mistake and think this is a cover up...not so. But it is an exellent lightener over time. I also felt the tingle when applied, made the mistake of getting it in my eye...ouch. The brush started out much stiffer than I thought it should be but loosened up after a few uses. Over all this lightened my undereye circles, which are quite dark, it didn't cover them up. I think it suited its purpose.
Back
to top