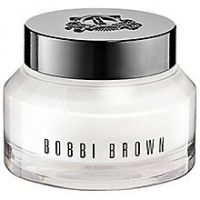 Bobbi Brown Hydrating Face Cream
As low as
Too bad!

I received a deluxe sample of this. When I first tried it, I thought I fell in love with it! It felt so creamy and hydrating to my face, not to mention that it absorbs like a dream. This can be used as a day or night cream (if using in the morning, remember to wear sunscreen!). Normally, whenever I moisturize in the morning, by the late afternoon my face begins to show some signs of drying and sli...read moreght tightness. Using this, my face felt well hydrated all day long. Like I said I THOUGHT I fell in love with this, after a full day and night's use of this product, I started breaking out. Normally I do not break out after using a moisturizer, but I noticed a bit of a flare of mild bumps all over my face. This really frustrates me because I was so impressed with this product initially. Thank goodness it was only a deluxe sample, because had I bought it, I would have had to return it. This might be great for people with dryer skin and not acne prone, but I would definitely ask for a sample to try before you buy!

Not a huge fan

I was disappointed in this product as I am an avid Bobbi Brown user. I thought I would try this when the girl at the counter told me it had vitamin E in it. As far as hydrating, it did it's job, and well, but for some reason, it clogged my pores big time. I don't know if I was maybe having an allergic reaction, but it just didn't seem to do this trick. Price was normal at $50, I expected to pay that much for a good face cream.

feels good

i have combination skin, oily T zone. after washing my face i apply this face cream and it feels so refreshing. i use it prior to applying makeup and before bed. my foundation is easier to put on and the next morning my face still feels moisturized and not dry at all. after only a few days of use i noticed a firm and clean difference. its a bit pricey for my budget but i feel your face is something you need to invest in.
Back
to top