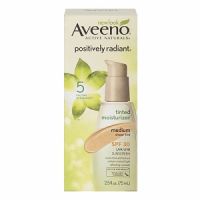 Review subject

I've searched high and low for a tinted moisturizer. I have oily skin with cystic acne and acne scars. I know that tinted moisturizer offers little to no coverage, however I need at least some coverage for when I'm running errands and working out. I really like this product because it made my skin glow and it did cover up some of my imperfections. I think the mineral radiance diffused some of my b...read morelemishes and my skin looked a lot better. It's oil-free and non-comedogenic, which is very important for me. It says that it reduces blotchiness and brown spots after 4 weeks but I've only been using it for a few days so I don't know how well it works for that, but so far so good. I didn't give it a 10 because the texture is thick so you really have to rub it in. I got it at Walmart for $15, which to me is still kind of expensive for a drug store product. However I am pretty impressed. Would buy again!

Great drugstore find!

I was skeptical of purchasing it due to my oily skin and since I live in Texas, it's hot and humid. But I rather like it very much! The tint is great to provide sheer coverage. I like that it has minimal light-reflecting pigments, as opposed to looking glittery like some mineral makeup tends to do. It has the slightest smell but it's very subtle and nice! I would use this if I'm on the go or ...read morepressed for time. My skin has been looking better since using this product, and I love that it has a decent level of SPF. The price is good too. It wouldn't hurt to try it out.

WOW, My skin Looks Amazing After a Day of Use

I wanted a tinted moisturizer for days heavy foundation wasn't appropriate and this has been a miracle worker. Not only does it offer amazing coverage concealing my acne scaring and sunspots, but when I take this off at the end of the day I notice my skin is more even toned, more firm (as in fine lines and wrinkles are less noticeable) and my face just looks more youthful and glowing. I really can...read morenot say enough to how amazing this moisturizer is. It has great long wear power as well, by day's end this stuff hasn't budged. Skin can get a little dewy if you have combination skin like me, so blotting might be necessary but I think that's a small price to pay for what a difference this has made to the quality of my skin. This is now a staple product in my beauty routine.
Back
to top