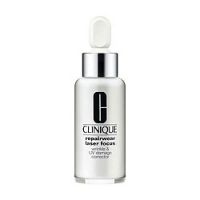 Amazing product for fading sun spots!

A few years ago i had sun spots pop up and got the worst one just above my upper lip, making me look like I have a mustache!! I was so humiliated and wouldn't leave the house without a full face of makeup. I tried every concealer and foundation possible to try to cover it up, but nothing seemed to fully cover it. I also tried so many different products for fading sun spots and nothing was working...read more! I saw an add in a magazine for clinique's Laser RepairWear Focus and decided to give it a try, hoping it would do the trick! I noticed a huge difference after only a couple of months of using Clinique's Laser RepairWear Focus.. I had tried everything else and nothing seemed to work. I have been using this for the last couple of years and my sun spots are hardly noticeable now, especially the horrible mustache sun spot! lol. I would highly recommend this product to anyone looking to minimize some sun spots. You won't be disappointed in this product! Its amazing! I will never switch to anything else because I've been so extremely happy with the results!

Saw improvement after single use

I used this only once and my skin was so smooth, satiny, and looked great even without any foundation. Serums are better than creams because it absorbs right away. I love the feel and texture. I recommend. It is quite expensive, but if you got free gift with purchase, this is worth it.

Like it but don't love it.

I went through a whole bottle of it and like it but don't love it. It does soak into your skin easily and leaves it feeling and looking temporarily soft and flawless, but it is likely because of the silicone and mica that is in this serum, which reflect light and only makes it appear that your skin is smooth. I haven't seen a huge difference in my skin even after finishing a bottle of this. No dif...read moreference in skin tone or pore size, just a small improvement in texture. I won't be buying again and will be looking elsewhere for a more effective serum.
Back
to top