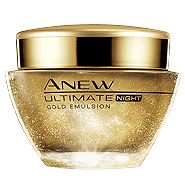 Avon ANEW ULTIMATE Night Gold Emulsion
As low as
Care it can burn your skin

Perhaps it's because I'm allergic to yellow gold and break out in rash when I wear it, the gold in this products or something else makes my skin itch, red and breakout. I've tried this several times because I got good discounts on avon when I sold it. I really really wanted to like this product and had high hopes, but to my dismay it hurt my skin in return. I do like the texture when it goes on a...read morend smooths over my face, but then a few minutes later I flair up and my face becomes red like I've just eaten ghost peppers. It may be just my skin, but I usually can use almost any product even Retinoids, so I could not understand what was wrong. I've read the igredients and it really seems no different than any other products I've used, but maybe it's the mixture of what they put in it. This it suppose to be for more mature skin and I don't have that at all. My skin is really good and I credit part of my asian for it, but this product makes me feel like I'm an old lady after putting it on. It did more harm and no good at all. This is from my personal experience and some people probably have better luck than I would, but I caution people to beware this is one product that you should do a test patch before hand. Oh and my product was brand new and fresh, since I was a seller, so I know I didn't use any second hand ones like you can get elsewhere online.

Eghh

This made my skin VERY oily. I used this at night and upon waking up the morning my pillow case was stained from the oil on my face. Not even smashbox antishine could keep the oil from coming. My skin did look healthy after blotting the oil off, but seriously, who wants to blot oil off their face all day. I only reccomend this to those who have very very dry skin. I dont like looking like an oil spill. Yuck!

Results FAST!

I was given this product and i saw results after the first couple uses. I have used retinols and skin lighteners and never saw results this fast I think that the combination of moisture vs glycolic does exfoliate where there is no bad look before the skin looks good. I recommend this product for a flawless face.
Back
to top