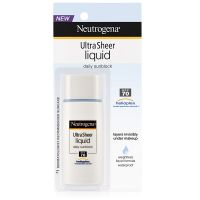 This is a great product

I use this one mostly on my face. I love the texture that is liquid-y and blends into the skin on my face with no problem. I don't use it on my whole body, just my face, hands and shoulders. It is so gentle and does not smell like much of anything or resembles the smell of regular sunscreens, which is a great thing for me, because I am not a big fan of the smell of regular sunscreens. I love that ...read moreonce it has dried it does not leave that oily feeling that other sunblocks leave. It totally works! I ride a motorcycle all the time and I live in an area where temperatures can reach up to 105 degrees or more and using this so far I have never had a sunburn! Or that heavy sensation that you feel once it has been absorbed. It's great to use under makeup!

Feels Nice

I never burn or tan no matter how long I stay out in the sun; I lucked out with naturally tanned/ bronze skin that doesn't seem to be affected by sun but I use sunblock to stave off sun damage. This certainly feels better than cheaper options & absorbs quicker. It doesn't make me break out & I assume that it's because it isn't heavy as other products. I opt for the cheaper ones when I'm going swimming or anything that might make me sweat because I don't think it's sweat/water proof.

A must for sunny days

This is an amazing sunscreen for your face. It doesn't leave any white film, it doesn't irritate my dry, acne prone skin, and it almost acts like a primer, which is a total beauty bonus.
Back
to top