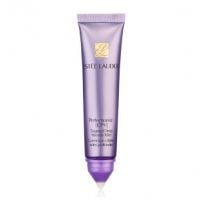 AMAZEMENT in a Tube!

Estee Lauder's "Perfectionist" is a line I've used and loved for several years now, one which my husband loves, and one which gives such dramatically noticeable results that I've received more compliments in the last five years than I did in younger years when my skin was more resilient and radiant. It all began with my using Lauder's incredible "Perfectionist [CP+R] Wrinkle Lifting/Firming Serum...read more." It is not a moisturizer, but it works hard to plump skin and blur any lines and creases. A few winters ago, the winter was so brutal that lines still were apparent on my face, despite the serum. My husband, who was also using the powerful product along with me, spends more time outdoors shoveling snow, warming the cars, etc. Exposure to the elements left him with pronounced "slash" marks on his face. We don't watch horror movies, but at first we joked that he looked like Freddy Krueger. And then I realized that it wasn't funny at all. We needed a prescription-strength skin product--immediately! To the rescue came Lauder's wonderful, super-concentrated "Perfectionist" formula in a small tube. It is pricey but lasts a long time. The thick, silky formula has copious amounts of Silicone to fill in furrows, especially around the mouth and eyes. Other powerful ingredients include Shea Butter, Sunflower Seed Extract, Hydrolyzed Fish Collagen (which leaves NO smell, so don't fear this), Avocado Oil, Cocoa Seed Butter, Corn Kernel Extract, Soy and Whey Proteins, Glycerin, Panthenol, and Caffeine. Despite the lavish texture, it leaves a soft, matte finish (much like a great foundation), with subtle luminosity to enhance. One hundred percent of women interviewed by Lauder experienced an immediate improvement in appearance after application. It's hard when using this to recall that it is not a moisturizer. You still need to apply a moisturizer over this problem-solving product, but it will keep you forever young.

The best filler!!

And they discontinued it!!!! Does anyone know where I can still get this or of another brand that is similar?? I'm desperate. Have been using this every day for 3 years and now almost out.

Fallen Filler

My experience with this product was disappointing and I had high hopes for results. I used this product for an estimated time of 60 days and a change in my skin was not evident. I am aware that there are different results for different people and by people I mean skin type, severity of the area targeted for correction, etc. So with that being said, this product just didn't work for me but it could possibly work for someone else if you are willing to put in 'blind money'.
Back
to top