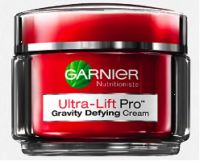 Thought I would save some money on a low end product.

Well, I got what I paid for. This did not firm or do anything exept leave a greasy feeling on my face.

Gritty sandy texture

I have only used this cream for a few days, and immediately noticed the gritty feel on my skin. As I rub the cream in slowly, looking in my 10x magnifying mirror, it appears that it is sloughing dead skin off my face. I get little white papery things rolling up on my skin. they brush right off, and then my skin feels very nice and smooth. I just wondered if others are experiencing the same thing, and if it is supposed to work this way or not.

Odd, sandy texture

I purchased this when I had a $2 off coupon, and it was on sale at Walgreens. Having lost some weight, I noticed some slack skin on my neck, and I bought this cream just to use on under my chin and on my neck. I only used it a few times because I couldn't get past the sandy texture. I assume it's some kind of powder that, when the cream dries, provides the lifting effect. This is also heavily ...read morefragranced, which I don't like. Since the jar is still full, I'm going to try to give it away. Good thing I didn't spend too much on this. I haven't had much luck with Garnier products. Going to stick with my standbys - Clinique and MD Forte.
Back
to top