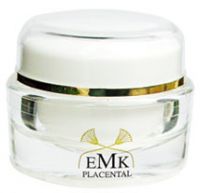 EMK Placental Face Cream
As low as
Works Perfectly, But Far Too Costly

I'm all about caring for my skin. In my mind, I am "caught" between the ages of eighteen and twenty-three, when blemishes were sometimes a problem but my skin, in general, was taut, glowing, and had a clarity which was enviable. I was continually pulled aside on the street and in stores and asked what regimen I used. I treated my skin gently ever since I was a child and used good products. I d...read moreon't want to part with a good complexion as I age and I don't have to do so, actually, if I keep caring for it well. I had an offer to review EMK Placental Face Cream for free from a cosmetic company and jumped on it. Normally my budget doesn't allow me to pay $90 for a moisturizer. I had heard and read about this--evidently dermatologists, plastic surgeons, estheticians, and celebrities favor this particular line and product. The philosophy behind it is to harness the attributes of natural plant placenta to boost cell renewal, oxygenate skin, defend your complexion from free radical damage, and improve the "communication" between cells. EMK puts a complex called Bio-Identical Plant Placental Extract in all of its products, including this facial cream. For all of its ingredients, this cream is surprisingly lightweight and seeps into skin easily and quickly. It is a pleasure to apply, as it is instantly comforting and cooling. Along with the aforementioned extract, Seabuckthorn Oil and Vitamin A are included to enhance its benefits. It is meant to repair deep lines and wrinkles. Fortunately, I don't have these, only some annoying, inherited "parentheses" around my mouth. I first used it at night. The next day my skin was akin to velvet. A week later, the "parentheses" were diminished somewhat and I had a new, taut feel. This did deeply hydrate my face and neck, and my husband noticed the difference. I had him try it. He loved it as well; he said, in a complementary way, that his face felt more "rubbery" (his way to describe pliable and firm). I would give this ten stars, but I can't justify the ridiculous price, especially when I can get a whole set of Ole Henriksen's or Mary Kay's amazing skin care items for the same money or much less. Although I love it, I won't be buying it again. Other products function just as well and don't break the bank.

Wonderful Face Cream

Since I started using EMK Placental Face Cream I've noticed a dramatic difference in my skin. I have always had very sensitive oily skin and had to deal with breakouts. After using the EMK Face Cream, my face looks great. My breakouts have cleared and my face feels and looks amazing. I don't need to use as much of make-up that I used to. All thanks to your products, my face is glowing.
Back
to top