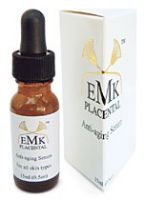 EMK Placental Anti-Aging Serum
As low as
Miracle Product

I absolutely love the EMK Face Serum. I've always had very sensitive skin, so I've been hesitate on what I use on my skin. Once I started using this amazing face serum, I saw immediate results. It made my skin firm and it tightened my pores. My skin looks radiant and glowing. I can't rave enough on how great this product is. Thanks EMK for this miracle product.

4 years and still going strong!

Back in 2011, I was recommended by my sister to try EMK. At the time EMK was not as famous as it is today, but my sister's skin improvement convinced me to try it. We went together to this really nice spa called "Belle Femme" in Seattle (where my sister lives) as they were providing facials with EMK serum. Since then I've included it to my routine. I usually go for almost 2 months with a b...read moreottle and I buy 2 bottles a year. Luckily there's a spa where I can buy it in Round Rock, Texas (where I live). Every time I finish a bottle of EMK serum I notice a much fresher, tighter and brighter face. My budget doesn't allow me to use it all the time so when I am not using the serum I use their other products. I also use several other anti aging products like Crème de la Mer and the serum from La Prairie (when my budget allows!!!) but I always go back to EMK for effectiveness. I am 49 now and my skin is definitely better than a few years ago. I'm a big fan of EMK and my husband too.
Back
to top