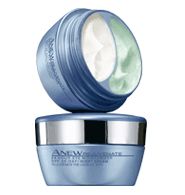 wow

its hard to explain how really fab this cream set is. i got it bc it is so hard to find an nonirritating spf for the eye area, and this one has it on the day side. i really cant beleive the difference ive seen in my eye area, the little dry looking creases i wake up with are totally gone, and the whole area is brighter overall. i have gotten comments as to me looking more 'rested' also. very gentl...read moree and my eyes are sensitive and i wear contacts night and day. it doesn cost you some wear time in your eye make up tho, i see faster fade and crease when i use this, but its not to bad and totally worth the trouble.

700poodles

The night cream half proved effective for me in one night, I woke up without the usual puffiness and bags under my eyes. I don't really think causing me millia should take any points away from this fabulous product, because every eyecream I've tried has caused them, and I should probably use gel instead of cream. The funny thing is, though, I don't know which half (day or night) of the package was...read more causing it, because the other half made millia disappear at a certain point! The white bump became flaccid and popped on its own. I suspect the spf in the day one causes them, and the night one exfoliates them.

A little tip

This eye cream is by far the best I have used. And i've only used it for about a week. So I'll be sure to update in a month. The results I see right now however are astonishing, I have great big bags under my eyes and dark circles from staying up late what with work and school. But this has definitely improved my eyes making them brighter and less puffy. I have even gotten a few compliments from f...read moreriends and family wanting to know why my skin looks so great. Now for a tip, the first time I used this eye cream I put a lot on, and went about my day in about 5 min the product started to seep into my eyes and man did it burn. So I've learned just two tiny dabs goes a long way. trust me. you don't need a lot to see results. and thats what i love about it.
Back
to top