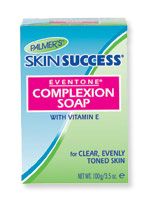 I think I might be falling in love

I actually found this product in a beauty supply store and didn't think I would like that much. I've been using it for about 2 1/2 weeks now. I mostly use it to take my make up off. Of course with any soap you have to be careful not to let it get in your eyes, but it does leave my skin extra clean and when I get a blemish, they don't last as long. My skin is smoother and I notice that its getting ...read morelighter. My sking natually gets lighter in the winter so I'll just have to wait for spring to see what happens. I'm seeing actual changes in my skin as opposed to when I was using the clinique even skin tone correcter and moisturizer and there were no changes; and those cost me $85 total. I'm glad that Drugstore online offers it, just in case I can't find it at the store. I only use it on my face and since the bar is pretty big, I'm sure it will last for a long time. At $2.99 its well worth the price if it continues to deliver.

Not the best for my skintype

I have combination skin, and have used this product daily for almost two months now. It cleans a little too well, leaving my face "squeaky" clean- which is uncomfortable. The first week of using this, I broke out. As I've used it longer, the blemishes have faded somewhat, but now I get small bumps on my nose and cheeks. This is the only product I've changed in my skincare routine, so I really don'...read moret think it's right for me. Maybe normal or oilier skin would benefit but if you have combination/dry skin steer clear of this one.

Favorite soap!

I love this product. It smells good, feels good, leaves your skin look smooth and a even tone! I always find it at Walmart ..$2.27 a bar...well worth it!!!
Back
to top