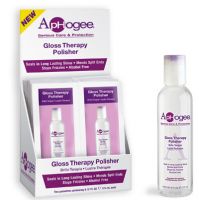 ApHogee Gloss Therapy Hair Polish
As low as
I really like this one

Ulta is my candy store, so I can truly say that, again, I've tied just about every shine product out there. I wear my hair natural, so I have to work to get some shine. I couldn't believe that this reasonably priced (less than $10) product worked for me. It gives incredible shine (using too much will give a greasy look), and it lasts all day. My hair feels soft when I use it and it has cut down o...read moren the breakage. It's pretty amazing stuff for me. A little of this goes a LONG way. I don't see why one bottle (about 4 oz maybe) wouldn't last me a year or more. I should have tried this one years ago instead of wasting all that money on the expensive brands.

New to ApHogee Product

I just tried this out of curiosity, it was very inexpensive so what the heck! I LOVE this product! It truly lives up to it's claims! My hair feels like silk, no frizz and I can easily run a comb through my hair which has a tendency to be a ratted mess after shampooing. I had bought a couple of the small sample packets, and my hair is long and thick...I got three uses out of the one packet, so ...read morea little goes a long way! I went on-line and immediately bought the large bottle. It takes quite a bit to impress me with hair care products, because so often they don't even come close to doing what they say they'll do ....I'm really impressed with this product! The large bottle was just shy of $9.00 and should last forever!
Back
to top