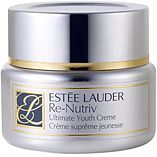 Fountain of Youth?

Beauty product review of Estée Lauder anti-aging 'Re-Nutriv' Ultimate Youth Eye Creme Preserves the look of youth Exclusive Youth Molecule™ Is Estee Lauder's anti-aging Ultimate Youth Eye Creme the fountain of youth? [break] Read review.[/break] HOW TO USE: Apply every morning and night. RESULTS: After using Estee Lauder Re-Nutriv Ultimate Eye Creme every morning and night f...read moreor three weeks, there is no doubt that the skin around my eyes and on my eyelids was more hydrated. With the inclusion of Camelina Sativa Oil, an exotic seed extract, I am confident that the oil softened my skin. The creme feels luxurious and extravagant, which it is -- ($250 for approximately seven ounces.) Or was it psychological? There is no doubt that using posh products on my face makes me feel intensely pampered. I guess a psychological reason is as good as any to use it. What it did not do was reduce the dark circles under my eyes. RESEARCH: Of interest to me was the research that went into this product. Inspired by genetic testing, Estee Lauder developed the Youth Molecule, Resveratrate. According to the literature, Estee Lauder took the best of traditional Resveratrol, which is associated with longevity, and made it significantly more concentrated, stable, and time-released. Resveratrate was shown in vitro testing to provide six times more protection from environmental damage, more than doubling the survival rate of skin cells. Additionally, the Youth Molecule is so top secret that only five scientists in the world know every detail. (I feel a mystery novel coming on. lol) TOXICITY: Because the product contains irritating ingredients, such as phenoxyethanol and butylene glycol, I would test this on your skin before plopping down $250. According to Skin Deep's cosmetic database, the Estee Lauder Re-Nutriv collection is moderate in toxic risk. It is important to note, that this product does not contain any fragrance, which can contain neurotoxins and is one of the top five allergens in the world. BOTTOM LINE: Unfortunately, the only fountain of youth in a jar is sunscreen. I would recommend this for women that aren't using retinol-based products and have deep pockets

Keep your $.

I've used a lot of high end facial products. With that said, $135 is too much to pay for this product. The cream doesn't moisturize very well and has a shimmer in it that gives the illusion of radiant skin. My view is that it is more cosmetic than beneficial. The Re-Nutriv powder is worth it, though because it is a cosmetic. Don't make the mistake of letting the sales girl fool ya.

Where is my moneyfountain?

I got a free sample of this and the eye creme and have been using it for 2 weeks. I have seen clearer skin and I have oily skin prone to acne. My wrinkles are less deep, my skin tone is lighter and more radiant, and the smoothness of my skin is dramatically improved! I was very afraid to use a product whose second ingredient is shea butter, thinking it would instantly cause zits, but it has not...read more. There are about 100 plant and herb extracts and other exotic ingredients in this, including colloidal gold, pearl powder, and it really is super luxury. But it's clearly priced for those who drive Rolls Royces and Pagani Zondas, not the Toyota driver I am. However, when I'm 70, I'm all over this stuff, provided my ship comes in. If you can afford it, you MUST try it. The scent by the way is very light and unusual--almost vitamin like, quite natural and unperfumey.
Back
to top