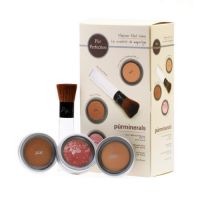 Starter Kit

This is a good to see if you like Pur Minerals. On the other hand, go to Sephora or ULTA and test it on bare skin before buying. That is the safest way to proceed. It is a little pricey for a starter kit.

Best Mineral Makeup Product

I like mineral makeup because I break out often. After I started using this product, I noticed a huge difference in my face clearing up. I break out less often and it doesn't give a weird finish that other mineral makeups can. I am Asian Indian, so it is very hard to find the "right" color makeup for my skin. This product also will work for a wide range of other ethnicities, because the co...read moreverage is not too heavy. It can be built up to give more coverage, or it can be used as a sheer everyday cover up. I also like this product because it doesn't come off at the end of the day, like other mineral makeups can. I bought the starter kit, which includes bronzer, primer, a the mineral makeup brush. The mineral makeup brush that it came with is amazing! It gives an airbrushed look and I even use it with other powders to give my skin a flawless finish. If you want a more heavy coverage, I would highly recommend using the primer from pur. I use it all over my eyelid, and face, and it works beautifully with the mineral makeup to make it last longer. The only bad thing that I can say about this product is that sometimes a film can produce on the makeup which will not allow the product to be absorbed by the brush. What I do to fix this, is to scratch the film off, which allows it to turn to powder again, and then I use the excess makeup on my skin. Once the film is gone, the brush will be able to absorb the product. However, the film will produce again. I'm not sure what allows the mineral to become so hard that no product will come out, but this makeup product truly is amazing.

Perfect Little Kit

This kit comes with their AWESOME 4-in-1 mineral makeup, and the chisel brush to apply it. It also comes with the mineral bronzer (which I love) and the mineral blush (which I also love!). If you have never used Pur Minerals before, this is a great kit for you. It gives you three of their main items for a great price. Believe me, if you try this kit, you will be hooked on their brand.
Back
to top