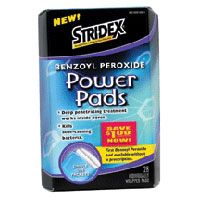 Stridex Power Pads
As low as
Great Product!

These are great pads, easy to use and packaged indiviually so that you can take them wherever you go. For those of us that sometimes need BP instead of SA I definitely recommend this product. These pads did not dry my skin out or make it flaky and I didn't have to wait for a cream to settle in or get that white look after a BP cream has dried on a blemish.

Nice & Cool!

These pads are really good for someone who tends to have oily skin because they dry it up. My face feels and looks great when using the Stridex Power Pads. I love the package because it usually only takes one, however, they are also good at getting all the make-up off! I think it was an excellent value for the money, and the package is a pretty blue!

Exclusively from the editors at Total Beauty

Get the Buying Guide to see these top-rated products!

Get it now »

Continuing Acne and Dry Skin

This product was not one of my favorite after using it for a week my skin began to dryout and peel. It also did not get rid of my acne underneath the flaking skin. My pores also remaned very large therefore i do not reccommend this product and urge any prospective users to select something else. Stridex power pads are not worth their money or their claims. Although i must say the individual packets make the product easy to have on hand, share, and pack, but the product itself is a boon.
Back
to top