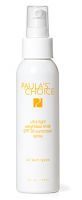 Paula's Choice Ultra-Light Weightless Finish SPF 30 Sunscreen Spray
As low as
BEST spray sunscreen ever!

This is an high quality, effective broad spectrum suncreen with antioxidants. What makes this product unique is that it does not contain the high amount of alcohol found in other spray type sunscreen which is bad for your skin nor does it contain fragrance or other "cooling" irritants. It never causes my sensitive skin to react (I use this on my body, not my face). The kids love it because it d...read moreoes not feel cold when it sprays on--it goes on in a fine mist. It feels like a dry oil spray, and it quickly absorbs and feels like you are not wearing sunscreen at all.

Greatest Sunscreen!

First, I HATE wearing sunscreen. But living in S. California, it is a daily necessity. I have tried and tossed so man--they are all too thick and sticky or greasy for me, or they smell funny. And forget about wearing them on my face--they feel awful once you get hot and sweaty. But THIS one by Paula's Choice is a godsend. I use it all over, I use it on my kids. Even my husband wears it. It does go...read more on a little "slick" at first, but once it dries (in about 1 minute) it feels like you are wearing nothing at all. My perfect product!! I don't wear foundation for the same reason I hate most sunscreens--they all make me feel like I am wearing a mask and make my skin feel untouchable. I even tried the mineral ones to no avail. But I think if the other reviewer waits a little while after applying this product--to let it dry--the other products will settle better. For me, I just spray some on my hands, rub it in on my face and apply my eye and lip makeup and I am ready for the world!

Not for my face!

My review about this sunscreen experiense when putting it on my face. First of all the name and sounds like nirvana for my oily skin, ultra light and weightless, can it get any better for a oily skin. After reading on Paula´s homepage that you can put this on your face if you spray it first on your fingers. I did that, feelt light as water and I was like WOW! I put it my face even the eyearea a...read morend no irritation/buring. I would say this water-free, silicone-based sunscreen feels like putting a silicone serum for hair on your face, greasy feeling like nothing else. But and then the big but... my face does not absorb this, leaves a film that I like have to wipe of. putting on a mineral foundations was not a dream, because of the greasy film on my face. It made the foundation uneven. I hade to put a lot of powder to absorb the exess sunscreen. About one hour later when I look in the car mirron when driving in the sun, I hade my first chock. This (toghter with the skinbalancing toner and 2%bha) hade first of all made the mineralfoundation 2-3 steps darker and my face was shiny like I hade put pure oil on in it, and greasy like I haven't seen. I don't think that my skin had looked that bad for years. I looked like a grilled chicken! First reaction was ok, I used to much, so the next day I used a minimum, but nope the same result. Back to superdefense, and using this only for the body, and works for the body it works well!
Back
to top