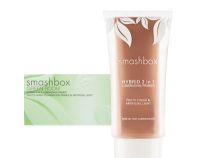 Silky skin, satin finish

This product gives your skin that beautiful moviestar finish you often see on the red carpet. The only issue I have with it is that sometimes too much illuminator comes out, and I end up having to remove some to stop my face from looking too metallic. Be sure to use it in a well-lit area so you get the luminosity just right! Great product, will definitely repurchase.

Great as you would expect but perfume-y smell.

the primer I have Smashbox Hybrid 2 in 1 luminizing primer photofinish and artificial light. Love the smooth feeling you get as you'd expect from any Smashbox primer. Love the luminosity. I will seriously have to adjust to the perfume-y smell you get from the product. I'm not used to a primer smelling as such. It's not a bad smell, but it makes me not want to wear perfume for the day. The product itself is awesome. Can't put on a good face for the day without an excellent primer!

Amazing Product!

I love this product! This is by far the silkiest, smoothest skin product that I have ever used. It is the perfect primer for any type of makeup you use. Everythng just glides on effortlessly. I will say, however, if your skin is dry and peeling, you really need to exfoliate and moisturize before you use this or else skin flakes will rub off as you apply making this seem as if it is peeling up on your face.
Back
to top