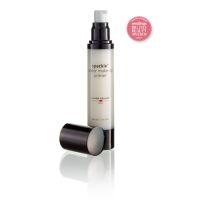 Primer

I got this in a kit, as I have previously described. This primer really gives a good "blank slate" before applying the Geller Baked Foundation powder. It makes the foundation stay put all day; no need for touch ups. I highly recommend this makeup line.

Laura Geller Spackle

Laura Geller's Spackle is my favorite primer to use. I have acne scars, large pores, fine lines, and a few wrinkles and this creates a blank canvas to apply my makeup on to. This is pretty much clear, with light reflecting particles that help diffuse those not so great spots on your face, so this is not going to cover red marks or acne (that's what use concealer for). The best part about Spackl...read moree is how much longer your makeup stays on when wearing it! That, and the colors go on truer as well.

Smooths over piercings

As far as foundation primers go, Smashbox's is far superior to Laura Geller's. However, this one works if you have any serious facial issues. I took my nose ring out for good over a year ago, but I still have an unsightly hole in my nostril. I don't have any major qualms about my skin, so I've been using the free sample I received to (literally) spackle my former piercing. Will I purchase the full size when my sample runs out? No. But it's cool while it lasts.
Back
to top