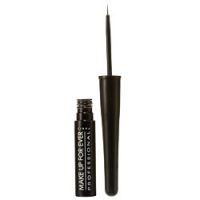 Great

I like this liner a lot. It's very pigmented, stays on all day and it dries fast. I have 3 of these in 8 (purple), 9 (bright pink), and 6 (navy shimmer). The only downside is that these are verrrry expensive. Remember to make sure to shake before EVERY use, and MAKE SURE that you have the cap screwed on tightly!!!! I didn't realize that and I got hot pink splattered EVERYWHERE in my bathroom and it is difficult to scrub out and impossible to get out of your clothes.

Not my fave

Although this does stay on very well, it takes FOREVER to dry! You put it on and have to wait at least 5 min... By that time you have aleady blinked and it has smeared. And of course the part that smeared is dry and there is no way you can get it off. Pain in the neck!

The worst I've ever use

It takes FOREVER to dry, melt after few hours. It looks like my mascara smelt down. Really don't like it and never buy it again!
Back
to top