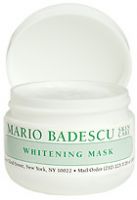 Did nothing for my acne marks

I got this product hoping it would fade some of my pink acne marks on my face. Unfortunately this product did absolutely nothing for them whatsoever. This mask actually broke me out as well. It leaves a slight film over your skin, that no matter how many times you rinse, it will not go away. I had to learn to use a facial scrub right after this mask, just to get that film off. After I learned to d...read moreo this, I no longer broke out from this product. I wish it had worked for me, because this mask smells amazing! I would not repurchase this.

Great alternative to hydroquinone.

I can't use hydroquinone, I have the worst skin reactions to it. It makes my skin red not lighter! So in my search for a whitening alternative, i came across this little gem. I use this as a spot treamtment for a couple brown spots from the sun and acne scars, not as a full face mask. After a couple weeks i notice a hugh diffence. Another reviewer said she beleives it "whitens" just by filling the...read more pores with white from the product, i don't think thats the case at all, she may be mistaking this for another MB product (the sliver powder). I haven't noticed any white in my pores.

WOW!

After the first time I used this I wanted to run to my computer and write a review.. That´s how impressive the results were! But I waited because I wanted to really document how much change the product makes. Now, three weeks later I am ready to document. And my review is raving! This. product. works! And I didn´t really know what to expect since I had tried other products that promised to fade ...read moreacne scars that didn´t work and since I had never tried anything from Mario Badescu before. My acne scars were faded after the first use, then little by little after every time I used it the scars faded. Now most of them are gone. This product has helped my skin so much, and I really recommend it to anyone who has acne scars.
Back
to top