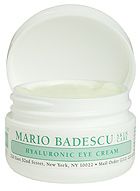 Very disappointing

I thought that since this product had hyalurinic in it, that it would be a good firming cream. It does absolutelu nothing except feel greasy.

Felt heavy....

I hardly use eye creams because I feel like they're a wasted step but since I got a deluxe size of this for free, might as well try it. This feels very greasy so my undereye area can sometimes itch because it doesn't really set or absorb. It feels like it just sits on top of the skin. I've used this for almost 3 weeks now and I can't tell a difference. I don't have too much undereye bags but just ...read morea little bit of dark circles. I don't notice it cooling like what some reviewers said. It just feels like a regular lotion to me. I think this would be really good for people with a severely dry undereye area since it's greasy and has some moisturizing effect. But this is not for me.

Nice for nighttime

I have been using this for the past couple months and quite like it. The hyaluronic acid in this makes it very moisturizing. Some reviewers have said that this is greasy and although I don't agree with that, I do think it is much better suited as a nighttime eye cream, rather than for use during the day, under makeup. A little of this goes a long way, so you really don't need much. Perhaps usi...read moreng too much of this could lead to a greasy feeling. Since this does not have an SPF in it, I have always used this just for the night. It effectively provides moisture, which in the long run will help prevent wrinkles. This cream does not claim to reduce under eye circles, provide lifting or tightening or anything like that. It is merely meant to moisturize. I think that is all we can expect from most eye creams anyway.
Back
to top