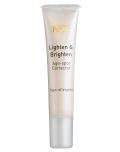 Boots No7 Lighten & Brighten Age-Spot Corrector
Boots #7 lighten

I tried this product and was not impressed. The texture was off for me and no change in eye area. I do use the overnight eye cream (in the morning) it's light weight but feels good and softened eye area.

No thanks.

After using this product for the recommended amount of time (four weeks) I have noticed absolutely no difference in my sun spots. Not to mention that this stuff smells yucky. The one good thing--it's really easy to apply.
Back
to top