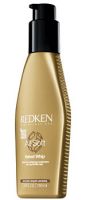 Editor's Rating & Review
My hair resembles wheat in look and feel, so any product with "All Soft" in the name is an easy sell. This light cream contains olive oil, avocado oil and gold camelina to add shine and it does -- but not much. It certainly wasn't silky. It might help protect hair from blow-drying and flatironing, but it doesn't make thick or coarse hair types velvety soft, as the name suggests. A leave-in conditioner is a better bet.
Reviewed by Kristen on 10/04/2007

How we review products
Redken All Soft Velvet Whip Thermal Softening Treatment

I have been a licensed cosmetologist since 1983, and I have watched Redken evolve over the years into what I consider the best in science and beauty. I recommend this product to all of my clients who heat style, and I have watched their hair go from dry, drab, heat damaged, into great hair with shine and strength. I personally use it every time I blow dry or use a hot iron to style. It has a re...read moreally nice texture, and it doesn't weigh my hair down or make it look dirty. This is a wonderful product to use if you heat style, it really does help protect your hair, and it really treats your hair as well. If you heat style, try this, it will amaze you. The protection it offers is a great investment in your hair.

Softens, but not much else.

If your only complaint is a rough texture, this is for you, This will help make your hair soft but it is just hiding whatever is causing the roughness. It is not a treatment, just a styler.

Amazing!!

I have thick wavy hair and when i put this product in it while its damp it keep my hair detangled and soft i just ran out and cant find it but it works great!!
Back
to top