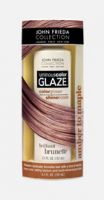 Gross!

Made my hair sticky and simply would not wash out. I don't even know how this product made it into stores. It didn't do anything for the color of my hair, either. What a waste of money.

Good and bad...

I love the shine and hint of color this applies after use, but I hate the nasty sticky feeling it leaves on my hair when I use it as directed. It makes it impossible to style my hair and I end up washing it again to get rid of the greasy, lank, sticky feeling that is left in my hair. I have gotten some success if I mix a small bit of glaze with my conditioner. I don't end up with the gross hair...read more, still get the color boost, but I do loose a some of the shine. I wish this stuff wasn't such a pain to use. Best bet? Stick with a shine booster and/or temporary color from Herbal Essences.

Stains my hands!

This works for me. It made my hair soft and shiny, and frizz free. It had a nice scent imo. But it staaaains your skin, your shoulders, everything! I would not buy it again.