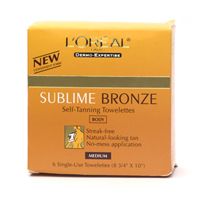 Hooked!

I've never ever liked self tanners. The smell alone is enough to deter me. Then you have the mess and everything turns orange. Then I read about this. Actually I read that Jennifer Aniston uses these so I thought - why not. I had a coupon at CVS and if I didn't like them, I'd return what wasn't used. After shaving and exfoliating, I used 1 towelette to cover my whole body after showering and...read more before bed. The true test was if I woke up to orange tinged sheets. Didn't happen. The color looks natural and I'm so happy! The only part I didn't follow was washing my hands afterwards, so I have dirty looking hands, but that's my fault. The smell was mininal and tolerable! Super excited to use these throughout the year to keep a healthy glow. I also used it on my face. No reaction and I tend to have sensitive skin. Thank you L'Oreal for another awesome product!

Great Product!!

Love this! I use this and other sublime bronze products and love them!

Real looking

I agree with other comments, these are great. They are natural but it would be great if they were larger.
Back
to top