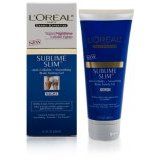 Stretch Cream Miracle Gel

I have no idea if this works on cellulite or not, because when I bought this I didn't have any. Instead, I used it as a gel on the stretch marks on my stomach and within days the red stretch marks faded and tightened up. It was astonishing. When I did get a bit of cellulite, this stuff did jack, but as a stretch mark cream, it's incredible.

eehhh....

I tried this for a while. It actually improved the appearance of my skin - made it smoother and tighter. But, it doesn't have any major results, so don't kid yourself there. But, I don't have the patience any longer to use this product everyday.

Wouldn't waste my money on this product

The product claims that it will help eliminate celulite and remove inches. Not true. I used religiously every night for 3 months (per the product recommendation). Didn't see any decrease in appearance of celulite or decrease in inches in thighs. From what I can see - this product just does not work.
Back
to top