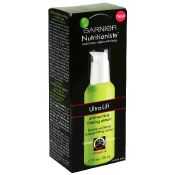 Good Moisturizer, heavily fragranced

This is a decent moisturizer, but it is very heavily perfumed. It is inexpensive though. I could take it or leave it.

Nice Anti-aging serum

I recieved this as a gift and have been using ever since. I have purchased as a gift and shared the product. It is very good and very affordable.

yum, yum smells like it oughta be delicious

i dont kno if it is delicious, but it smells great and feels really good. its almost too heavy for me, and i dont have alot of lines to work on yet, but it did make my skin nice and plump, especially around my eyes. the package is nice, the pump keeps it hygenic and the bottle protects the serum from light, so it stays fresh after you open it. if you need a little help in the firming department this, for the price seems like a good bet. you wont be dispaointed in its feel or moisturising!
Back
to top