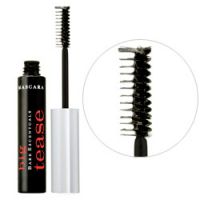 Bare Escentuals Big Tease Mascara

I am not really fond of the mineral makeup products from this line, but this mascara was remarkably nice! It made my lashes realy long and when I used an eyelash curler, the curl held. I loved the brush, it was very easy to apply, no clumps or gobs to brush out. It also took almost 9 hours of wear in the heat and humidity before it smudged, and it didn't flake either. I give this a far higher score than any of the MMU products, and I will purchase this again.

The best

Not a fan of their foundation makeup, but Bare Minerals turned out a pretty good mascara! I got it as part of a sample gift basket and immediately went out and got it on my own! It separates, lengthens and voluminizes better than any mascara I've ever used. Better than any drugstore and any high end brands I've tried. I like the side of the wand with the longer bristles, it does well with thinner and sparser lashes. A+

Terrible

I got this as part of a gift set, and it was completely useless to me. The brush does absolutely nothing to separate lashes (in fact, it practically forces them to clump), and the formula smudges off easily. If you're used to using waterproof mascara (as I am), you'll hate this. I can imagine that the people who rave about this are the same ones who keep Maybelline GreatLash at the tops of all th...read moreose "Best Products of All Time" lists. Aside from the mineral part, the brush and length of wear are comparable.
Back
to top