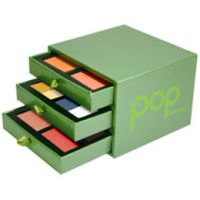 Pop Beauty Beauty Cabinet
As low as
Beautiful, Vibrant, Assorted Colors

I bought a few Pop Beauty Cases when they were on sale and still haven't opened some. The container is pretty, to be sure, but the little ribbon tabs make opening the drawers a bit difficult at times. The colors inside are Pop quality, however. The case I have has a lovely, gently shimmering rose blush, a coral hue, a neutral rose, and a light pink. All apply easily and softly, have buildable ...read morecoverage, and wear a long time. There are twelve amazing eye shadows. These are colors to be reckoned with, like UD's "Nude" palettes. Most shimmer gently, making wear during the day fine, and be used for an exciting, enchanting night look. They come in groups of two; there is a matte taupe and a gleaming one; a pure sugar pink and an incredible cobalt which is hard to find; a black and complementary champagne; burnished copper and ecru; a taupe/rose with golden micro-glitter and a soft pink; a lilac/pink/white and light, pure gold. Your imagination is the only limit to the number of looks you can achieve with these. They are soft and finely-milled, apply easily, and blend very well together. The shadows in this kit would complement any woman's complexion, eyes, mood, and occasion. They stay in place, especially over a great primer like Too Faced's "Shadow Insurance." The bottom tear is filled with lip glosses; some have as much substance as full lipsticks. Once again, there are colors for every woman, from a neutral tea rose (with a hint of taupe) to a rich berry and a beautiful bronze. There is a red color, a vivid pink which is basically a glossy coat (gives lips a lovely pop of color), and a shell pink gloss to be worn alone or with any of the other colors. These are never tacky or sticky but wear well. I love this kit and am deciding which of my friends will receive some of the ones I have squirreled away.

not what it seems

I looked at the tester and I thought " My goodness these colors are to die for!" The eye shadows had a shimmmery metalic look and when I brushed my finger across ot they looked highley pigmented. I should have taken a better look because when I got home I tested them out atgain only to find that the metalic sheen came right of only to show plain matte color. I was so disapointed. All of the blushes are bright orange. This case is a fruad and Im glad I got it on sale.
Back
to top