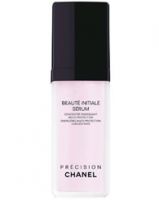 good

made skin softer and more supple.. was hard to find out ingredianta.. not really sure what it is supposed to do.. besides hydrate skin

Some people have false expectations of product...

I have just started using this product, so I personally cannot effectively rate it. However, I saw what previous reviewers wrote, and had to make a comment. One reviewer mentioned something about a self-tanner; this product is not a self-tanner, and is not marketed as such. There is a slight shimmer, which is connected to the "radiance" part of the marketing. Another reviewer used this a...read mores a moisturizer, and commented that it wasn't moisturizing enough. This product is not a moisturizer; it is an anit-aging serum that is meant to be worn UNDER a moisturizer. Maybe these reviewers accidently reviewed the wrong product, because their comments don't correlate with the product. This causes the product to be inappropriately "judged" by other reviewers who come to this site to get advice and do research. I don't even know if I'll like this a few weeks from now, but I think it should be reviewed for what it actually is. In the meantime, I'll give it an "8". I do like the way it feels on the skin. (If the product is doing its job, it is unlikely that many results will be visually evident for some time, as it is supposed to be for those 25-35 yrs of age who want to "pre-anti-age". So if it is not irritating or causing break outs, it may not be a bad product. However, I'm not sure about the actual researched anti-age effectiveness of it's ingredients.) I'll update later... *Update* I've lowered the review to a "7". I finished the bottle. It never broke me out. The texture was nice. Did it help with anti-aging? I don't know. Only clinical studies can truly decide that. However, due to the other things that I've mentioned about it, I'd say that it is slightly above average, but I would think that there are better comparable products out there.

ok

I took this on vacation with me to key west. I used it instead of my regular moisterizer. It was good for the climate and gave my skin a boost. But I have dry skin and need more lasting moister in my formulas.
Back
to top