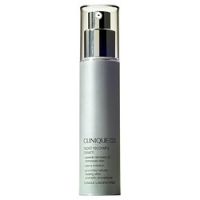 Great After Dermabrasion

Having undergone once-a-month microdermabrasion a few years ago plus having dry skin, I turned to CX Rapid Recovery Cream to soothe my skin and I wasn't disappointed. Although it is an expensive moisturizer for Clinique, I used this cream morning and night for a week after my dermabrasion appointments, and I felt it not only repaired my skin but soothed it as well. As a caveat, I don't have derm...read moreabrasion done anymore. There are so many products on the market now that are equal to that of a salon. dermabrasion.

keratosis pilaris

I have keratosis pilaris and this is the ONLY thing I have found that works. Tanning helps it a little but I don't like to do that to my skin and I've been hunting for anything that would help for a long time and this is the only one that not only helps but completely clears it up. It's totally worth the high price to me and would be to anyone else who suffers from keratosis pilaris. It also helps...read more heal break outs, even the ones I've picked at, with amazing speed. All in all a vital beauty product to someone who rarely uses beauty products.

OMG this is time in a bottle!

If u have ever heard the expression and looked it up there would be a picture of Clinique CX Rapid Recovery Cream right next to it. The creme is great! Not only does it have the very reliable name of Clinique, but it also gives your skin a completely new look and feel. It doesn't just make it appear to have hanged it, it really does. When I was on my monthly restocking trip for make-up at JC Penny...read more's. While roaming around at the Clinique counter, I spotted the product and read the info about it prior. So, I decided to ask the woman behind the counter about the product and how it worked, and what it did. Well, to make a long story short I bought it, mainly because it was a Clinique product, which is a name I truly trust. I got it ho,e read the directions and started using it that night. Within almost 2 weeks 12 days I noticed a totally different look to my skin. Not only was it softer, and glowing but it had a new tightness to it. That all of the fine lines on my forehead, under my eyes, and and around my smile lines were almost gone. I was blown away, and so happy! See before I decided to buy it I figured that, if by the time the bottle was empty it had not worked for me, or was not convenient enough to use with my regiment n schedule. Then I simply wouldn't buy anymore. Well, I will tell you this it was very easy to use, an fit right in with my daily regiment as well as hectic schedule & my oh so hectic life. I also did end up buying more, it gave me all of the results n is like I said time in a bottle. Nahh...I will go as far as to say youth in a bottle. This is an awesome product and is truly the best! I would recommend it to anyone who has any fine lines, or wrinkles and wanna tighten up that skin. Without the messy, oiliness of other creams, or the skin drying flakiness of the other products. Then in turn get a gorgeous glow and softness at the same time. This is your product! Also, it's definitely affordable and can be found at any department store where Clinique products are sold! Try it, you won't regret it!
Back
to top