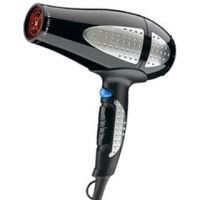 Editor's Rating & Review
There's a lot to love about this moderately priced dryer. Let us count the ways: 1) The ionic factor does indeed help boost shine and cut down on drying time. 2) It's pretty quiet -- you can barely hear it behind a closed door. 3) The slim, snap-on attachments really stay put. And 4) It has four heat settings so there's a temperature for everyone. As for the not-so-brilliant part: It's heavy. But hey, who doesn't need a little built-in arm workout?
Reviewed by the Total Beauty editorial team on 09/24/2007

How we review products
Good, but not great

I wish it would be slightly warmer, but i guess that the lower heat better protects my hair. I like that this is full powered and blows fast because it cuts down my drying time. The quality is good and the price is also good. I have to be careful keeping this too close to my head; my long hair tends to be sucked in through the back filter and I have to cut it out. I've never had that problem with any other dryer. Ouch!

So-So

This hairdryer is not all that great but decent compared to others. Super cheap so you can't complain and it's better than nothing but it's always worth investing in professional grade tools.

Easy Styling

This hair dryer from Conair works great at styling your hair, because I use it all the time and it always makes my hair hold in the position I want, and even helps add shine by drying your hair. The unit is a little heavy but works great and is very quiet to use everyday.
Back
to top